Source:
http://www.stltoday.com/business/columns/david-nicklaus/tax-changes-heat-up-missouri-kansas-border-war/article_8d35c294-a275-5b74-9fd6-bc2c5744d0dd.html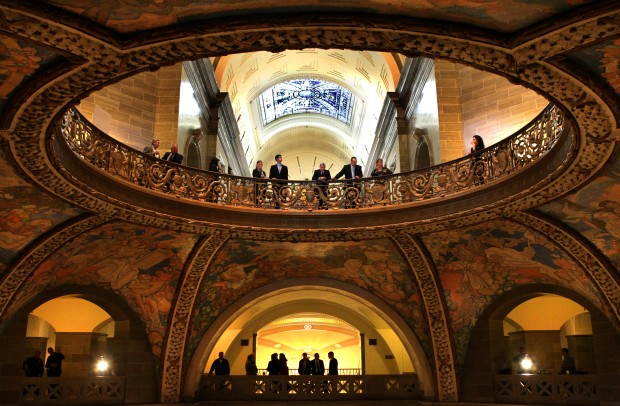 Legislators and lobbyists watch from the third floor as a Tea Party rally was held in the rotunda of the Missouri Capitol builiding prior to the opening of the 96th General Assembly in Jefferson City Wednesday January 4, 2012. Photo by Robert Cohen, rcohen@post-dispatch.com
If you've been thinking about painting your house, nothing accelerates your plans like seeing a neighbor do it first.
Using a similar logic, advocates of a Missouri income tax cut say a neighbor's actions have made their campaign more urgent this year.
That neighbor, Kansas, decided last year to exempt certain small-business income from the state income tax, and it cut the top tax bracket for everyone to 4.9 percent from 6.45 percent.
The two states were already engaged in a
long-running border war
over jobs, with Kansas City area employers being offered incentives to move a few miles across State Line Road. Now, some people are worried that the tax cut will cause a mass exodus of small businesses moving west.
"I think a lot of S corporations and LLCs (limited liability companies) will start leaving Missouri, especially the profitable ones." says Rex Sinquefield, the retired investment executive whose campaign contributions have made him a major force in Missouri politics. "Missouri will hemorrhage jobs unless Missouri responds quickly."
Taxes are not a new issue for Sinquefield. In 2011, he backed a
petition drive
calling for Missouri's income tax to be phased out over 10 years and replaced with a higher sales tax. He eventually withdrew the effort, but has said he might try again if the Legislature does not act.
Now, Sinquefield is not sure the gradual approach will work. "I don't think we have 10 years any more," he said. "We'll have lost too many of our businesses and a large part of our state revenue will be gone."
At least two bills in this year's Legislature are advertised as responses to the Kansas challenge. One, sponsored by Sen. Eric Schmitt, R-Glendale,
would halve taxes on business income
. Another, sponsored by Sen. John Lamping, R-Ladue,
would cut Missouri's top individual tax rate
to 4 percent from 6 percent, while raising cigarette and sales taxes.
Sinquefield would still prefer to eliminate the corporate and individual income taxes, but says he's encouraged by legislators' proposals. Of Schmitt's bill, he says, "That's not enough, but it's a very good start."
The problem with trying to keep up with the neighbors, though, is you don't see their credit-card bill when you're looking at the gleaming new paint job. In Kansas' case, the tax cuts blew an $800 million hole in next year's budget, and lawmakers haven't figured out how to fill it.
Jack Strauss, a professor of economics at St. Louis University, is skeptical of the tax-cutting fervor.
"Everybody wants their taxes cut," he says. "However, on the state level, you have to realize, there's not a lot of fat in the budget."
If tax cuts lead to cuts in basic services like education, Missouri would be hurting itself economically. Taxes are important, Strauss says, but "the number one reason businesses move to a region is because of the labor force. You have to educate that labor force."
Missouri needs to fight this border war in a sophisticated way, not a simplistic one. Legislators also must be careful not to exaggerate Kansas' advantage on the tax issue. Last year, the conservative-leaning Tax Foundation ranked Missouri 16th for its business tax climate, well ahead of Kansas in 26th place.
Missouri legislators may find room to cut tax rates, particularly if they succeed in reining in the state's multiplicity of tax-credit programs. But they should do so with an eye on the state's long-term economic health, not as a knee-jerk response to a neighbor.
David Nicklaus is business columnist at the St. Louis Post-Dispatch. Subscribe to his
Facebook page
or follow him on Twitter
@dnickbiz.